The Colorado Oil and Gas Conservation Commission (COGCC) has approved drilling of four development wells at Blue Star Helium's Galactica/Pegasus project.
The quartet are to be drilled as offset development wells to the JXSN#1 and JXSN#2 helium discoveries made earlier this year, and expected to be production wells. Around 29 helium wells for Galactica/Pegasus currently in various stages of the permitting pipeline.
Energy consulting firm Sproule is currently finalising a resource update for Galactica/Pegasus, which is expected to result in the declaration of contingent helium and carbon dioxide (CO2) resources.
The Galactica/Pegasus development is larger-scale project with multiple potential product streams. Further engineering and market work is underway to refine the initial planned development configuration and forecast helium and CO2 production and cost estimates.
Various development pathways are under consideration, including a leased plant and third party operated option. The final development is expected to include a CO2 extraction route and by-product stream.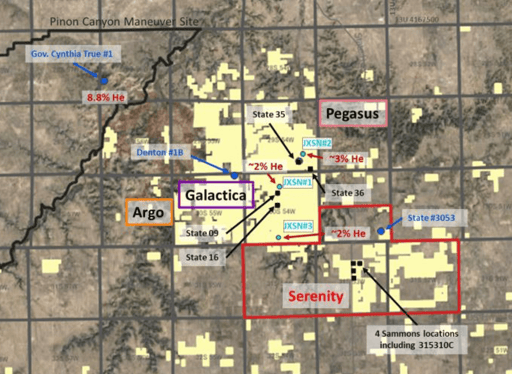 The Galactica/Pegasus facilities are planned to be permitted in parallel with the Voyager development described in the ASX announcement of December 19. A final decision on the initial Galactica/Pegasus plant configuration is expected in H1 CY2023.
Helium exhibits characteristics of a bulk, commodity gas and of a high value specialty gas and is considered a 'high tech' strategic element.
Due to its chemical and physical qualities, helium is a vital element in the manufacture of MRIs and semiconductors and is critical for fibre optic cable manufacturing, hard disc manufacture and cooling, space exploration, rocketry, lifting and high-level science.
Helium cannot be made artificially and most of the world's reserves have been derived as a by-product of natural hydrocarbon gas. The helium sector, growing at over 11% a year, is expected to be worth $18.2bn by 2025, according to ResearchAndMarkets.