UK-based carbon dioxide (CO2) capture specialist C-Capture has been recognised for its 'unique and innovative' carbon capture technology at the 2022 IChemE Global Awards held in Manchester, UK, on 17th November.
Having scooped the trophy in the 'Energy' category of the international honours, C-Capture won the award for showcasing excellence in efficient energy use or the development of energy production methods that reduce energy intensity.
C-Capture utilises a solvent-based technology to remove CO2 from post-combustion emissions. Capable of deployment on most processes requiring CO2 separation from other gases, including power stations, cement plants and hydrogen production facilities, the technology is currently being used to capture CO2 from biomass as part of a major project funded by the UK Government's Department of Business, Energy and Industrial Strategy (BEIS).
Read more:Drax to pilot Europe's first carbon capture and storage project
Considered 'fundamentally different' to commercially available amine technologies, C-Capture's technology boasts a high tolerance to impurities in industrial flue gases including oxygen, sulphur oxides and nitrous oxides.
Suitable for 'hard-to-abate' industries such as cement, glass and waste-to-energy, the decarbonisation potential of the technology also saw the company shortlisted as a finalist in the 'Sustainability' category, which recognises excellence in sourcing and consuming materials, reducing waste, and/or optimising the product life cycles.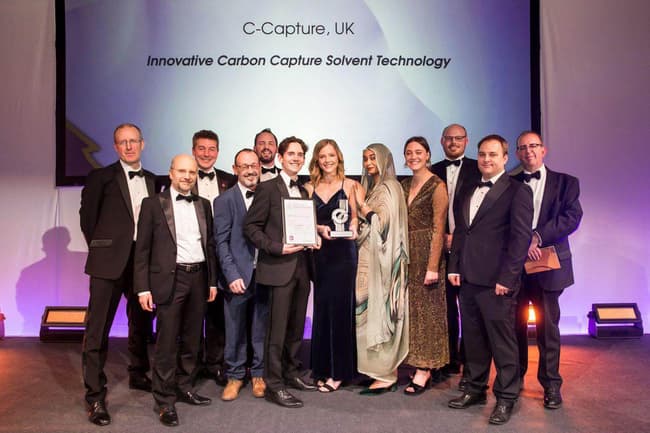 Labelling the win as 'fantastic recognition' for the C-Capture team and its technology, CEO Tom White added, "The IChemE Global Awards represent the pinnacle of excellence in chemical process engineering, this achievement is testament to our exceptional team and their commitment to accelerating the global adoption of carbon capture and storage to achieve Net Zero, by preventing greenhouse gases from entering the atmosphere."
The globally represented competition saw winners and finalists hail from countries including the USA, Australia, UAE, New Zealand, Norway, South Africa, Serbia, Germany, Dubai, Saudi Arabia and Malaysia.
Established in 1994, the IChemE awards are widely recognised as the world's most prestigious chemical engineering awards.
David Bogle, President of IChemE, commented on the event, stating that he welcomed the focus on sustainability across the award categories, 'which clearly demonstrates how chemical engineers are already contributing to addressing some of society's major challenges."
"Congratulations to all our winners, we hope their achievements inspire companies, teams and individuals to make further advances as chemical engineers will be critical to delivering solutions in the future."