To coincide with COP27 Decarbonisation Day, we talk to Carbon Clean exclusively about its growth plans and strategic vision.
Just as the 'black box' provides aviation investigators with invaluable insights, Carbon Clean's version is helping major energy and manufacturing companies crack industrial decarbonisation.
CycloneCC is billed as the world's smallest industrial carbon capture technology, and features a remarkably simple proposition.
Instead of embarking on lengthy design and engineering processes, Carbon Clean focuses on 'modularisation', which provides a fast, scalable, standardised solution that can be adapted to any site. The hard-to-abate sector is exclusively in its sights, principally cement, steel, refineries and energy from waste.
The company aims to deliver industrial decarbonisation on a gigatonne scale and capture 1bn tonnes of carbon dioxide (CO2)by the mid-2030s. At a time when many companies are struggling to implement solutions fast enough to combat climate change, Carbon Clean's technology is proven. As of October, it has removed over 1.7 million metric tonnes of carbon from 49 facilities.
Speaking exclusively to gasworld, Co-Founder Prateek Bumb said, "Decarbonisation is our bread and butter. Typically when we design and engineer our plants, we can remove 90% of CO2 from the industry, at least cost. At the moment, Carbon Clean is targeting capture costs of $30 per tonne of CO2 by 2025 and has already achieved $40 per tonne."
"Our approach is to work with limited customers, but credible ones – who have publicly announced their decarbonisation goals and ambitions. We are trying to create a roadmap with pretty much all these companies, where we see alignment with our growth and vision. Our focus, after the fundraise, is now to work with strategic accounts who have a large customer base."
It's been quite a journey for Bumb, who set up Carbon Clean with Aniruddha Sharma, Chair and CEO, while still at University in India 13 years ago. Headquartered in London, Carbon Clean's network now spans the world, and is growing rapidly in the United States.
Alongside CycloneCC, its CDRMax™ process captures CO2 from the industrial flue gases or off-gases emitted from power plants, boilers, kilns and chemical facilities and can be used with source gases that contain CO2 concentrations between 3% and 25% by volume.
It believes its CO2 separation technology significantly reduces the cost of upgrading biogas versus alternative technologies like generic amines, membranes, and PSAs, and its APBS-CARBex® solvent can also be used as a drop-in replacement to improve the performance of biogas upgrading plants using MEA or MDEA solvents without any equipment modifications.
"I would say the activity of the last two years has far exceeded the previous 10," he said. "Industries' commitment, and flow of capital, has reached the next level. It's following the same trajectory as renewables – it's taken time, but carbon capture will be a central piece for decarbonisation for hard-to-abate industries.
"Look at the Inflation Reduction Act – I would agree it is a 'game changer', it's creating an eco-system for businesses to understand how the whole regime will operate."
In a presentation at COP27, Mckinsey states that iron and steel headed materials' contributions to greenhouse gas emissions last year (7%).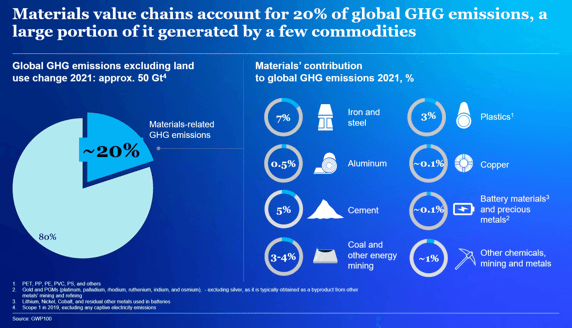 And in recent McKinsey analysis, CCUS uptake needs to grow 120 times by 2050 for countries to achieve their net-zero commitments. Four years ago, it published a separate report warning that technology and transportation to collect CO2 would have to be more cost effective.
But Bumb insists a lot has changed since, that costs have reduced, innovation increased and more deployment happened, but acknowledges a lot more needs to be done (click here to see how CycloneCC is implemented in a refinery).
"Our focus is to get some testing and validation experience in industries such as steel. We want to make sure that, once the huge amount of deployment and capital flow is underway, we have that operational experience to support and build large-scale carbon capture systems.
"Currently the products are 'ad hoc' engineering – and to get one project on site takes two to three years, whereas our aim is to 'copy paste' our modular systems. We are receiving positive feedback that this is the right approach."
Carbon Clean raised $150 million in May from existing investor Chevron, who led the round, alongside CEMEX Ventures, Marubeni Corporation and WAVE Equity Partners and new investors, AXA IM Alts, Samsung Ventures, Saudi Aramco Energy Ventures and TC Energy.
To date, it has raised $195 million, having closed its $30m Series B investment round in August 2021.
Chevron Technology Ventures made an initial investment in Carbon Clean in 2020 and last year the company launched Chevron New Energies (CNE) to accelerate lower carbon business opportunities in CCUS, hydrogen, and offsets and emerging energies, as well as support its ongoing growth in biofuels.
Current projects include a carbon capture pilot involving CycloneCC technology on a gas turbine in San Joaquin Valley, California.
Chevron is targeting 25 million tonnes of CO2 per year in equity storage by the end of this decade, with a focus on developing regional hubs that leverage its existing and emerging partnerships with customers, governments, and industry.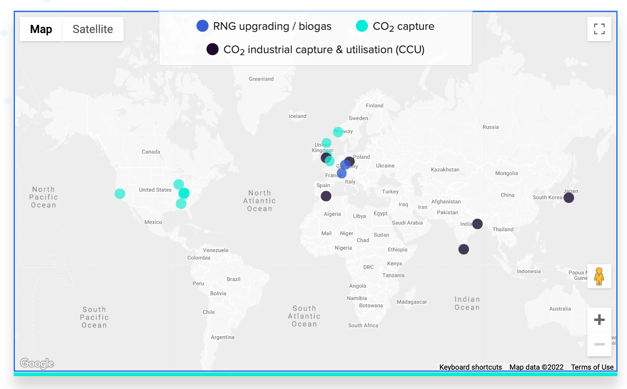 On the other side of the world, NTPC Energy Technology Research Alliance (NETRA) recently selected Carbon Clean and Green Power International to set up the carbon capture plant at NTPC's 500MW coal-fired power plant (Unit-13) in Vindhyachal Super Thermal Power Station, in Madhya Pradesh.
This plant is designed to capture 20 tonnes of C02 per day, which will use a modified tertiary amine to capture it from the flue gas of the power plant. The CO2 will eventually be combined with hydrogen to produce 10 tonnes per day of methanol through a catalytic hydrogenation process.
The capture of CO2 from the flue gas of coal-fired power plants, and its conversion to methanol, is a priority area for NTPC and is expected to create potential new business opportunities and revenue streams for the company.
Accounting for 12GT of emissions, around 20% of the global total, manufacturing continues to place a heavy burden on the atmosphere.
"Everything is important for the industry right now – hydrogen, carbon capture, renewables, biomass. At the moment people want to test options, and then create a decarbonisation strategy that mixes-and-matches their needs," he said. "I say climate change is a 'bigger COVID' problem, the economic impact is huge if you don't act on climate change."
Bumb says he wants to send "hundreds of CycloneCC product lines" to all hard-to-abate industries.
Moving forward, the company has many new commercial avenues to pursue, from technology licencing and equipment delivery, to carbon-capture-as-a-service.
"Our ambition is huge, the problem of CO2 and climate change is enormous, and we want to help industrial customers achieve their decarbonisation roadmaps."
COP 27 President H.E. Sameh Shoukry, commenting on today's Decarbonisation Day, said the climate crisis is existential, overriding and ever present and we need to look at every piece of the puzzle, including the decarbonisation of the industrial sectors that underpin the global economy.
"Today's activities provide a significant opportunity to discuss critical plans and policies needed to reduce carbon footprints, particularly in hard-to-abate sectors," he said.