Companies across the energy and industrial sectors are being urged to close the digital gender gap as the world unites behind International Women's Day (March 8).
This year's theme, 'DigitALL: Innovation and technology for gender equality', underlines the importance of embracing transformative technology to empower all women and girls (under social hashtag theme #EmbraceEquity).
With the energy industry in the midst of an unprecedented transition, that means ensuring equitable access to education and training for in-demand STEM skills, and equitable access to jobs and leadership opportunities in the 'industries of the future' – where technology and sustainability will unquestionably take centre stage.
By 2030, the International Renewable Energy Agency (IRENA) expects the number of jobs in the energy sector could rise to 139m – compared to 12.7m in 2021 – including more than 74m in energy efficiency, electric vehicles, power systems/flexibility and hydrogen.
United Nations (UN) Secretary-General António Guterres said gender equality is both a fundamental human right, and solution to some of our greatest global challenges.
In our digital-oriented world, it's arresting to be reminded that 2.4 billion people still use inefficient cooking systems and polluting fuels.
Global gender parity for labour force participation had been slowly declining since 2009. In 2022, it stood at 62.9%, the lowest level registered since the Global Gender Gap index was first compiled in 2006.
Women's lack of inclusion comes at a huge cost. As per UN Women's Gender Snapshot 2022 report, their exclusion from the digital world has shaved $1trn from the gross domestic product of low- and middle-income countries in the last decade, a loss that will grow to $1.5trn by 2025 without action.
Growing inequalities are becoming increasingly evident in the context of digital skills and access to technologies, with women being left behind as the result of this digital gender divide. The need for inclusive and transformative technology and digital education is therefore crucial for a sustainable future, notes UN Women.
The COVID-19 pandemic exacerbated inequalities, to the extent of warnings of a "a generational loss," according to the World Economic Forum (WEF).
"The pandemic years saw significant drops in women's labour force participation in every region of the world," it states.
But there are encouraging signs. Last year women held 33.4% of global senior leadership roles across public and private sectors, marking a steady improvement on previous years and a silver lining for gender parity, according to WEF.
In 2023, most listed companies understand the advantage of having a diverse board. Women make up 40% of the boards of UK FTSE100 companies (compared to 38.9% in the Stoxx Europe 600 index) and 19% of Chairs (compared to 11.2% across Europe), according to the Institute of Directors, which published a gender diversity barometer to coincide with International Women's Day.
The percentage of women with executive positions in companies has been gradually increasing during the last five years. In the FTSE100, women represent 28% of executive leadership positions (compared with 24.3% across Europe) and 9% of CEOs (7.7% across Europe). However, 15% of UK businesses still have no women in the executive leadership (18% across Europe).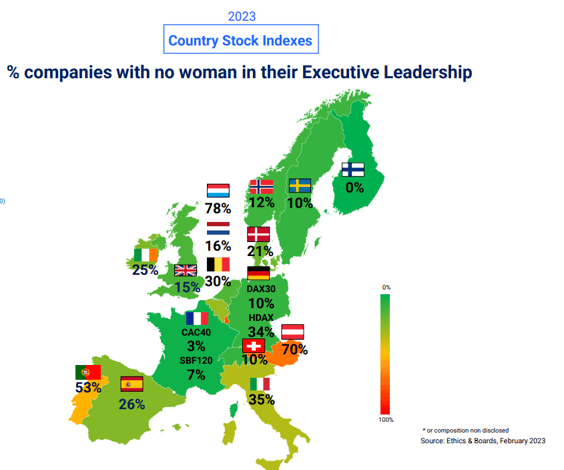 Alexandra Hall-Chen, Principal Policy Officer for Sustainability, Skills, and Employment, said increased boardroom diversity leads to smarter decision-making, contributes to an organisation's bottom line, and powers innovation, among other benefits.
She said, "UK boards have made excellent progress in improving female representation in the past decade, and the Barometer demonstrates that the FTSE100 is ahead of the curve on boardroom gender diversity in Europe. However, the job is not done, with more work needed to improve female representation in executive leadership positions."
Women In Green Hydrogen (WiGH) is partnering with sister title H2 View to connect, empower and change.
Speaking at the UK Hydrogen and Fuel Cell Conference in Solihull this week, H2 View spoke to Clare Jackson, Chief Executive of Hydrogen UK.
"Hydrogen is such an exciting area to be working in," she said. "We need more women and diversity in this sector. We've got a great set of women already working in this area, and we want more to come and join the party."