Egypt President Abdel Fattah El-Sisi has inaugurated a major Nitrogen Fertiliser Complex in Al-Ain, Al-Sokhna.
The complex, implemented by thyssenKrupp in partnership with Petrojet, includes six 'mega factories', including one for liquid ammonia (up to 1,200 tonnes annually), to produce nitrogenous fertilisers and marks the second phase of a project which started in December 2019.
The factories, with a total production capacity up to 1.7 million tonnes/year of phosphate, potassium and nitrogen fertilisers, serve the agricultural sector in Egypt. Surplus production will be exported to nearly 56 countries.
President El-Sisi said, "This is real industry and sustainable development – and the way to boost our national economy. We want this sector to reach $100bn annually."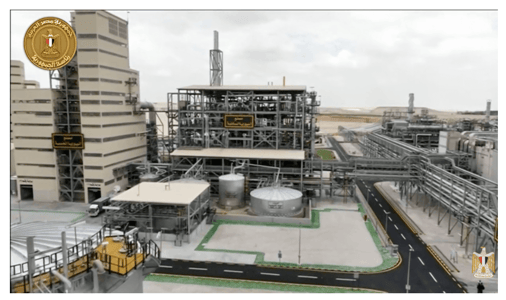 Ehab Abdel Samie, Chairman of the Board of Directors of Al-Nasr Intermediate Chemicals Company, said it has inaugurated two factories for the production of medical and industrial gas and a tri-generation power plant in the chemical industries complex in Abu Rawash, Giza governorate.
It brings the total number of industrial complexes of the company to four, adding that the chemical industries complex in Abu Rawash groups 23 factories.
Egypt, which hosted COP27, is becoming an increasingly major player in decarbonisation and industrial production.
Globally it is the sixth largest urea fertiliser producer, and fifth largest urea exporter, and has combined ammonia production capacity of 6 Mtpa, all based on natural gas, and benefits from wind and solar, allowing for high utilisation of electrolysers.
Abdel Samie said it is already looking at adding another factory for urea.