Energy price caps continue to split chief economists down the middle but there is unanimity for better energy efficiency in the long term, according to a new survey and outlook from the World Economic Forum's Centre for the New Economy and Society.
The EU gas price cap, as well as a G7 oil price cap, were approved in December and it will be 'some months' before there is clear evidence as to their effectiveness.
The equal split is 'unsurprising' given the intensity of debate that has surrounded the introduction of a price cap for gas in the EU, including concerns about its potential
implications for the financial stability of the Eurozone.
Reducing consumption features prominently, with 86% viewing it as an effective strategy, but improved energy efficiency is the clear frontrunner, with unanimity among respondents as to its effectiveness in the long term.
This is in line with the International Energy Agency (IEA) view that energy efficiency is central to the shift that needs to take place in advanced economies.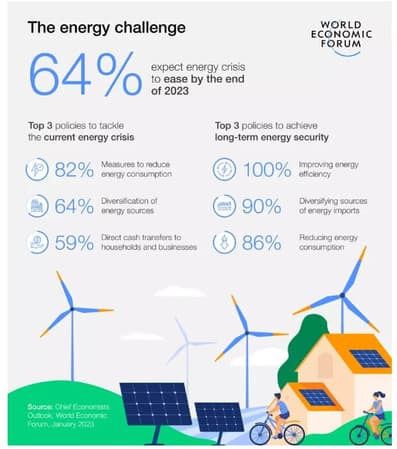 Although the war in Ukraine is central to the energy crisis in Europe, global security of supply concerns in 2023 are unlikely to be driven only by developments in the war.
For example, if China's easing of its zero-COVID restrictions is successful, it is likely to push up demand for liquified natural gas (LNG) and oil products, including diesel, which is
becoming increasingly scarce, the outlook forecasts.
On the bright side, the expectation that the energy crisis will be less severe by the end of 2023 reflects the current stress-testing and improvement of systems and processes, diversification of energy supply sources, improved energy efficiency and changing patterns of consumption.
Progress in a range of these areas is already evident in Europe, for example, including a tripling of gas reserves, the securing of new supply deals, and a trimming of gas consumption by 15%.
As the 53rd Davos annual meeting prepares to get underway, the outlook finds two-thirds of respondents consider a global recession to be likely in 2023, including 18% who consider it extremely likely, more than twice as many as in the previous survey in September 2022.
Around nine out of ten respondents expect both weak demand and high borrowing costs to exert a significant drag on business activity in 2023, with more than 60% also expecting higher input costs to be a significant factor.
Almost three-quarters of chief economists (73%) said they expect businesses to postpone investments in 2023 in order to save money.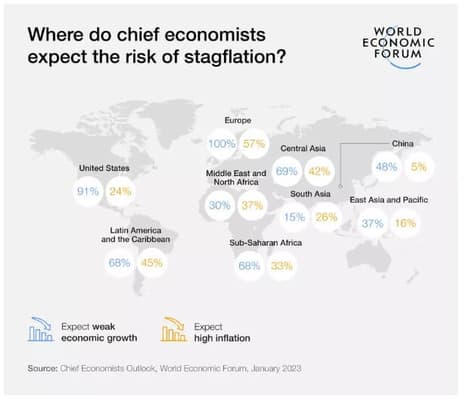 The first 'face-to-face' annual meeting this week following the pandemic will unite more than 2,700 leaders from government, business and civil society, at a pivotal time given geopolitical instability, rising inflation and decarbonisation challenges.
Klaus Schwab, Founder and Executive Chairman, World Economic Forum, said, "We see the manifold political, economic and social forces creating increased fragmentation on a global and national level. To address the root causes of this erosion of trust, we need to reinforce cooperation between the government and business sectors, creating the conditions for a strong and durable recovery. At the same time there must be the recognition that economic development needs to be made more resilient, more sustainable and nobody should be left behind."