Supplies of carbon dioxide (CO2) in New Zealand are having to be rationed due to shortages following the closure of the country's sole food-grade CO2 production facility, according to a Reuters report.
Often used to fizz soft drinks and beer, CO2 is also used in food packaging, hospitals and in the slaughter of animals.
The rationing is believed to be a result of a safety-related CO2 production plant shutdown. The facility – located in Taranaki on New Zealand's North Island – is run by Todd Energy and said in a statement it has to close while a plant safety issue was investigated.
According to Todd Energy, the closure began more than two weeks ago, prior to Christmas, and no reopening date has been given.
In a written statement, Mark Macfarlane, Chief Executive of Todd Energy said that the shutdown was necessary to enable the issue to be 'clearly defined'.
"Unfortunately, that means the plant is temporarily closed while we work through engineering solutions."
One of Todd Energy's biggest customers, gas major BOC, told gasworld that it is prioritising supply of CO2 to critical medical, safety and water customers.
"Rationing is in place and allocations will be reviewed regularly in line with product availability," said a company spokesperson.
"We are working collaboratively with suppliers, customers and other industry stakeholders to manage the CO2 supply situation."
According to the company, this includes additional shipments of CO2 supplies from overseas.
"The timeframe is contingent on availability of specialised equipment offshore filling times and international shipping windows."
The Todd Energy site has been New Zealand's only domestic producer of food-grade CO2 since the Marsden Point refinery was permanently closed last year.
Briefing notes from a paper titled 'Fuel supply resilience without a domestic oil refinery released in November 2021 revealed that Cabinet ministers were warned the loss of CO2 gas supplies from Marsden Point would put pressure on liquid CO2 supplies.
It said, "While there are other potential CO2 sources, including imports, closure of the refinery will challenge the CO2 supply chain – particularly [with] a short lead time to make necessary investments or relocate the plant."
Malaysia boosting supply
In response to the shortage, Malaysian industrial gas specialist Ace Gases — a subsidiary of Kelington Group Berhad — is working with consumers and other industry stakeholders to manage the CO2 supply situation.
Speaking to gasworld, an Ace Gases spokesperson commented on the rationing, saying, "New Zealand is facing a shortage of liquid CO2 (LCO2) after the decommissioning of the Marsden Point refinery in Whangārei which left Kapuni as the sole domestic supplier."
"To make the situation worse, the sole domestic supplier in Kapuni is now temporarily closed due to safety concerns and there is no confirmation of a reopning date."
The statement continued, disclosing that other suppliers are limiting supply to prioritised customers, causing the beverages industry to 'run out of fizz' in addition to impacting the food freezing, fabrication and construction industries.
A manufacturer of ISBT-certified beverage grade LCO2, Ace Gases' Malaysia plant produces 55,000 tonnes per year of LCO2 and the company is in the process of revving up production capacity by building a second CO2 gas recovery plant in Kerteh with an additional 70,000 tonnes per year capacity, expected to be completed by Q4 2023.
"Ace Gases is focusing on the supply of LCO2 to the overseas market," said the company. "It is currently supplying LCO2 to markets like Australia, New Zealand, Pacific Islands, Taiwan, Hong Kong, Philippines and around Asia Pacific."
A delicate supply chain
It isn't the first time that safety concerns have stirred fears of a CO2 shortage. Last year, supplies were constrained in the US following contamination at one of the country's main suppliers, the Jackson Dome.
Read more: US CO2 shortage
The contamination is believed to have occurred when oil company Denbury decided to use its existing CO2 supplies for enhanced oil recovery (EOR) and drill additional wells to feed its CO2 pipeline that supplies merchant CO2 plants.
Although CO2 is used for surgeries, stimulating breathing and anaesthesia, in addition to equipment sterilisation, there has reportedly been no direct impacts for Taranaki hospitals so far, according to NZ Herald.
According to gasworld Business Intelligence, the industrial gas market in New Zealand generated revenues of approximately $289.1m in 2021. The largest gas company in the country is Linde plc followed by Air Liquide and Coregas.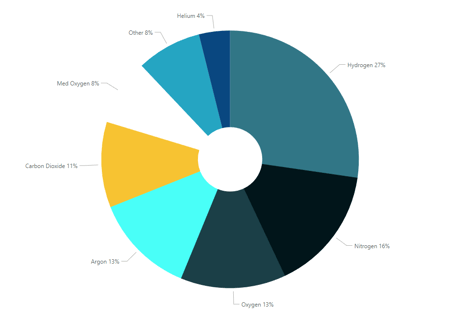 Hydrogen sales made up the largest portion of gas market revenues, accounting for 27.3% ($78.9m) of the total market while CO2 sales were responsible for around 11% of the gas market ($31m).