Three-quarters of German manufacturing companies have saved on gas in the past six months without curtailing production but nearly half don't see the pattern continuing, according to new ifo Institute research.
A survey found 41.4% of industrial companies say that the only way for them to save more gas is if they cut back production at the same time – although that figure was far higher in glass/ceramics (69%), pharmaceuticals (67%) and chemicals (57%).
Karen Pittel, Director of the ifo Center for Energy, Climate, and Resources, said, "The potential for further savings without a drop in production seems to be running out."
The survey found 12.3% of all industrial companies even state that in order to reduce gas consumption further, it will now be necessary to stop production altogether. This is particularly true of food and animal feed manufacturers (27%), printing companies (24%), and metal product manufacturers (also 24%).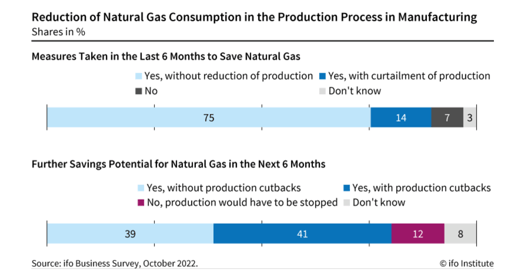 The number of companies that have already cut back production is particularly large in printing (40%), metal production and processing (35%), and textile manufacture (25%).
Industry accounts for just over a third of natural gas use in Germany and prior to the Ukraine conflict, it sourced 55% of its gas from Russia.
Given the volumes imported, Germany will be one of the hardest-hit economies in the EU in the case of a complete Russian gas shutoff, according to the International Monetary Fund, and estimates a potential 2% loss in GDP.
The Germany government has agreed to a €15bn bailout for Uniper, Germany's largest importer of Russian gas, to ensure it can continue to operate and fulfill its contracts.
As Germany does not have a port facility to import LNG, the government plans to invest in two permanent land-based import terminals while leasing five floating units (called FSRU), starting from the end of this year, while securing long-term purchases of LNG from Canada, Qatar and the US.
The five planned FSRUs can secure around 25 bcm of natural gas per year, but this is less than half the capacity of the Nord Stream 1 pipeline.
Germany recently decided upon the northern city of Hamburg for the country's new green ammonia landing site, which is due to open in 2026. The facility – being undertaken by Air Products and Mabanaft – will help Germany's efforts to decarbonise industry, using hydrogen.
Robert Hermann, CEO of the national agency Germany Trade & Invest, said, "As part of its National Hydrogen Strategy, Germany has committed to investing at least nine billion euros to scale up the hydrogen economy."