With five months still to go until gasworld's Asia-Pacific Industrial Gases Conference 2023 in Kuala Lumpur, Malaysia, two of the biggest keynote speakers in the industry and the region have already been confirmed.
Stefan Messer (Messer Group) and John Panikar (Linde plc) will both provide headline talks at the event, which takes place from 5th – 7th December at the Renaissance Kuala Lumpur Hotel & Convention Centre.
The Asia-Pacific region has long been a market of allure for the global gases business, not least for its wealth of business opportunity.
While the region has already realised much of its potential, a great wave of opportunity is yet to be tapped into, both for those within the region and those outside looking in, ready to enable growth.
Parallel to this growth is a mandate not only for clean energies, but decarbonisation across the industrial ecosystem. This in itself presents a window of opportunity, as well as a sense of responsibility, for the gases industry.
Against this backdrop, gasworld's Asia-Pacific Industrial Gases Conference will be held under the theme of 'Delivering On The Promise of Growth' and tackle not just how the region truly delivers on the promise of its growth potential, but where that promise meet the challenges of reality.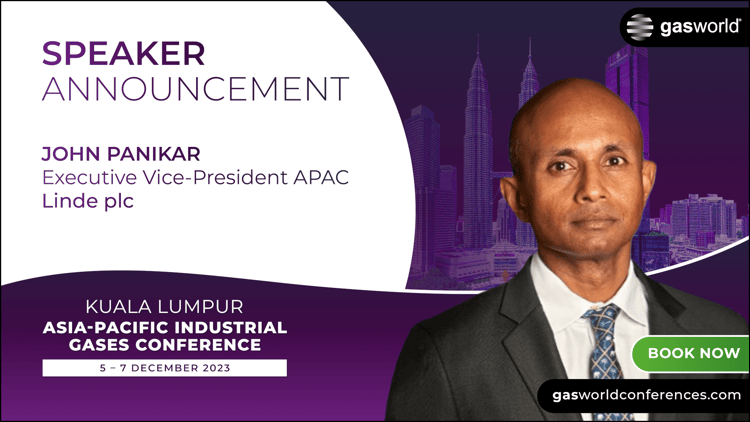 John Panikar, Executive Vice-President for APAC at Linde, will set the scene for this discussion and debate with an official Opening Keynote that draws upon his extensive experience in the region.
In his role – appointed in January 2021 and based out of Singapore – Panikar leads the company's business strategy and growth in the region, as well as its efforts in sustainability, diversity and inclusion.
gasworld can also confirm that Stefan Messer, Chairman of the Supervisory Board at Messer SE & Co. KGaA., will provide a reflective keynote at the conference.
It was revealed in late April (2023) that Messer would step back as CEO of the Messer Group and take up the position as Chairman of the Supervisory Board, in a move which saw Bernd Eulitz appointed as the new CEO with immediate effect.
Read more: Stefan Messer steps back as Messer Group CEO
Messer is a third-generation shareholder and has been in charge of Messer since 2004, when he returned the company to full family ownership following an existential crisis. Under his leadership, Messer was able to re-establish itself as a key player in a market for industrial gases that is otherwise dominated by major international corporations.
Messer Group is the world's largest privately-held specialist for industrial, medical and specialty gases, and this year celebrates its 125th anniversary. It is also a leading light in the Asia-Pacific industrial gases business, and particularly so in the rapidly emerging Vietnamese market.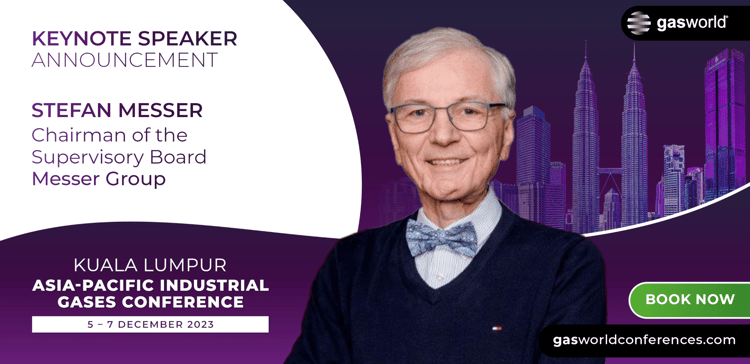 During his keynote talk, Stefan Messer will reflect upon the group's journey to date, 20 years of his own leadership and the biggest developments he presided over, the growth prospects in the Asia-Pacific region, and both the Messer Group's activities and his own affection for the region.
Read more:  Stefan Messer – A life's work securing Messer Group
Commenting on the announcements, gasworld Global Content Director Rob Cockerill enthused, "I'm so pleased to announce these two great keynotes for our APAC conference in December. In Linde and Messer Group, we have two of the biggest international stakeholders in the APAC gases business on the gasworld stage to share their insights and visions for the region, delivered by individuals with deep personal and professional connections to the region."
"And for our industry, keynote speakers don't get much bigger than Stefan Messer. It's fitting that the group this year celebrates 125 years of business and it's arguably the last 20 years, under his leadership as CEO, that have been the most ambitious and critical."
"He has truly restored, reinvigorated and repositioned the group to succeed across the globe, and that includes in the burgeoning APAC region where Messer is a name that resonates across countries, not least the fast-growing industrial gas hubs of Vietnam and China."
"I can't wait to hear what insights he shares with us in KL this December, and I'm sure I'm not alone in that."
Hot topics
CIMC Enric is confirmed as the event's Principal Sponsor, and discussion around China's continued industrial gas build-out as well as its expectations in electrolyser capacities and green hydrogen will be prominent on the conference agenda.
It's an agenda that includes a range of hot topics, from decarbonisation and clean energies to electronics and specialty gases and the impact of onshoring and recent CHIPS Acts in both the US and Europe on the Asia-Pacific region.
Two sharp and succinct 60-minute panel sessions will also be debuted at the event.
Day one of the conference programme will conclude with a 60-minute session focused on Hydrogen in APAC, anchored by gasworld's Rob Cockerill.
Another 60-minute panel will conclude conference Day Two, focusing on Healthcare in APAC and specific talking points around homecare services in China, medical gases and specifically medical oxygen in the region, and diagnostics and therapeutics.
Cockerill added, "These are topics that we need to engage in, but to also discuss in a more dynamic format with a heightened sense of community. These panels will be less about slides and more about scrutiny and analysis, they'll be to the point and all about the direct dialogue between the speakers and audience."
Confirmed speakers also included Cockerill's colleague at gasworld, Karina Kocha, Business Intelligence Manager, Linx Consulting's Andy Tuan, INOXCVA's Savir Julka, and Templewater's Dr. Yufeng Wan.
Kocha will discuss the latest insights and projections for the Asia-Pacific industrial gas markets, while Tuan will provide an analysis and update on the market for electronics and specialty gases in Asia-Pacific. Julka, meanwhile, will discuss the build-out of liquid hydrogen infrastructure and Dr. Wan will provide an insight into the kind of clean energy investments that Templewater makes and what it looks for in such an investment.
Asia-Pacific Industrial Gases Conference 2023
Decarbonisation and how the Asia-Pacific region pragmatically delivers against its sustainability needs in the near-term will be in focus at gasworld's Asia-Pacific Industrial Gases Conference 2023 in Kuala Lumpur, Malaysia this December.
Join gasworld for its show-stopper 2.5 day event at the Renaissance Hotel & Convention Centre in Kuala Lumpur, Malaysia under the theme of Delivering On the Promise of Growth.
Taking place from 5-7 December 2023, the conference will tackle China's clean energy and industrial gas build-out, the hydrogen society in the APAC region, the practical means of delivering decarbonisation in emerging economies in the short-term, the economic climate in Asia-Pacific and the local industrial gas markets, electronics and specialty gases in Southeast Asia, and so much more besides.
To attend, sponsor and for more information, visit www.gasworldconferences.com