Shipping giant and clean energy company Equinor have signed a deal securing supply of green methanol for Maersk's new methanol-enabled feeder vessel.
Set to run from this month into the first half of 2024, the agreement will guarantee green methanol supply for the ship from its entry into operation on a loop from Northern Europe into the Baltic Sea after the name giving ceremony later this month in Copenhagen, Denmark.
To be bunkered in Rotterdam, the green – or bio – methanol is produced from manure-derived biogas.
The biogas is upgraded to biomethane and injected into the existing gas grid and the methanol is produced from the biomethane in the grid on a mass-balance basis.
To safeguard against double-claims, the European biogas certificate system is used to trace the attributes of the biomethane to the biomethanol.
"Equinor is pleased to be partnering up with Maersk in delivering greener fuels to the marine industry," commented Alex Grant, Senior Vice President for the liquid commodity segment at Equinor.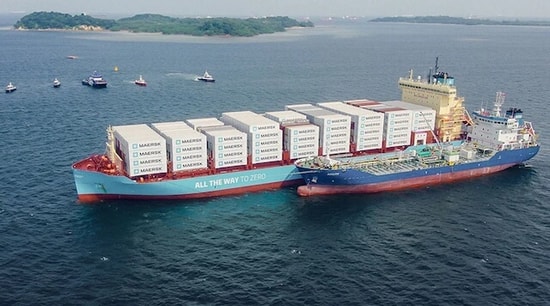 "Equinor is an established player in the European methanol market through its production plant at Tjeldbergodden and we have ambitions to be a key provider of green methanol in the marine fuel segment."
Alongside other low-carbon fuels such as liquefied natural gas (LNG) and Bio-LNG, methanol has the potential to reduce carbon dioxide (CO2) emissions in the maritime sector.
According to the International Maritime Organisation (IMO)'s Fourth GHG study 2020, global shipping energy demand accounted for nearly 11 exajoules, resulting in around one billion tonnes of CO2 emitted in 2018.
Research showed that, when taking a tank-to-wake approach, green methanol can reduce CO2 emissions by 7%, SOx emissions by 99% and NOx emissions by 60%.
The International Energy Agency (IEA) has forecast that green fuels such as ammonia will provide 45% of shipping fuel demand by 2050.
Maersk has opted for methanol with 19 dual fuel ships on order. To compensate for a growth in demand, sustainable fuel company WasteFuel plans to produce 100 tonnes of methanol a day using solid municipal waste.
"With more than 100 methanol enabled vessels on order across the industry, the demand for green fuel production is rising and will continue to do so in the years to come," said Rabab Boulos, Chief Infrastructure Officer at A.P. Moller – Maersk.
The company defines 'green fuels' as fuels with low to very low greenhouse gas (GHG) emissions over their life cycle compared to fossil fuels.
'Low' is defined by Maersk as fuels with 65-80% life cycle GHG reductions compared to fossil fuels, where as 'very low' refers to fuels with 870-95% life cycle GHG emissions.
The feeder vessel will eventually be fuelled by e-methanol from a plant in Southern Denmark, operated by European Energy, which is expected to come on-stream in the first half of 2024.