The majority of energy and industrial companies are making or planning to make investments in natural gas or liquefied natural gas (LNG), according to the Baker Hughes Energy Transition Pulse 2023 report.
It found over half of 500 senior executives (57%) in energy and hard-to-abate industries across the Americas, Asia-Pacific, Europe, and the Middle East and Africa, anticipate increasing gas investments in a survey about their readiness to achieve Net Zero by 2050.
Beyond Europe, renewed demand for gas has also prompted investments globally. Analysts predict that US LNG export capacity alone will increase by 84% to 21.7bcf per day by the end of 2027.
Lorenzo Simonelli, Baker Hughes' Chairman and CEO, said he has been encouraged by the speed at which European countries are installing regasification units, accelerated by the growing need for energy security following the Ukraine war, which has created the 'energy trilemma' alongside sustainability and affordability.
"There's a lot more discussion and concentrated effort in Europe around the diversity of supply now," he said. "Previously, it would have taken considerable time to get through all the different permits. Some countries are accelerating these processes now."
Just under a third (30%) will prioritise the use of or investment in hydrogen in future, more than synthetic fuels or gases; carbon capture, utilisation and storage (CCUS); or nuclear power. However, blue and green hydrogen need a more extensive infrastructure transition than other sources of clean energy, and new value chains that unlock cost competitiveness but are as yet unproven.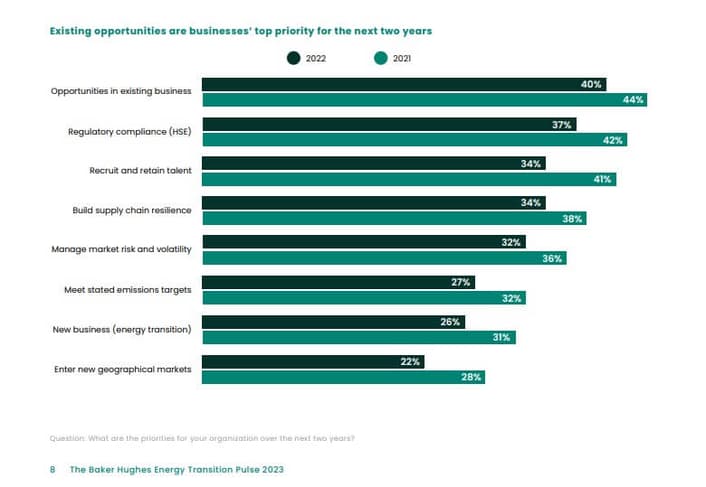 The uncertain outlook for the global economy is a continuing barrier to energy transition investments with 41% of respondents saying economic uncertainty coupled with rising inflation is the greatest barrier to investing in energy transition technologies, and the highest priority among respondents over the next two years is to invest in existing lines of business (40%).
However confidence in Net Zero preparedness is at a similar level to 2021 in EMEA, slightly higher in the Americas but decreased in Asia-Pacific. But a significant percentage (39%) are worried their companies may reverse the course on Net Zero. "It remains to be seen if Net Zero can survive changed energy markets," the report states.