National Grid launches its second-phase consultation today for the Low Carbon Pipelines Project.
The infrastructure, which will exceed 16km and covers five key sections, consists of two underground pipelines: one to transport captured carbon dioxide (CO2) emissions from major industrial emitters; the other to transport low carbon hydrogen for use as a more environmentally friendly alternative to fossil fuels.
As part of this statutory consultation, which runs until November 29, National Grid Ventures has published plans, visualisations, technical documents and other materials on the proposals, including a Preliminary Environmental Information Report (PEIR) detailing potential environment impacts.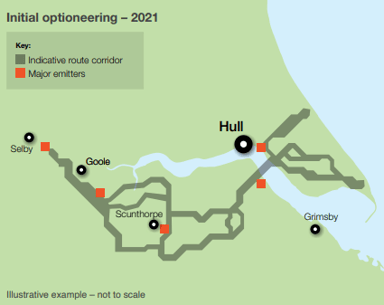 The Humber Low Carbon Pipelines project forms the backbone of Zero Carbon Humber, which is part of the UK East Coast Cluster, which unites Zero Carbon Humber and Net Zero Teesside with shared offshore infrastructure that will be developed by the Northern Endurance Partnership.
The pipeline transporting captured CO2 emissions would connect to a pump facility located near the coast. Here, the pressure of the carbon dioxide would be increased allowing for efficient transportation via a 103km offshore sub-sea pipeline to the Endurance storage site beneath the North Sea for safe storage.
Both CCUS and hydrogen have strong support from the UK Government. The British Energy Security Strategy (2022) is targeting 5GW to 10GW by 2030 and aims to capture 20-30Mt of CO2 a year by 2030, building on the initial aim to deploy CCUS in two industrial clusters by the mid-2020s.
In October 2021, the Government confirmed the East Coast Cluster as one of two chosen for deployment by the mid-2020s.