Carbon management company Navigator CO2 has agreed to deliver 600,000 tonnes per annum of biogenic carbon dioxide (CO2) from its Heartland Greenway system to a future eFuels production facility in the Midwest US.
The US firm has signed a Memorandum of Understanding (MoU) with next-generation fuel company Infinium to supply a planned site that will produce electrofuels, or eFuels.
Navigator's Heartland Greenway carbon capture, utilisation, and storage (CCUS) project is one of the largest aggregations systems for biogenic CO2 in development globally. Once fully expanded, Heartland Greenway will have the ability to capture and store approximately 15 million metric tonnes of CO2 every year.
The goal is to connect industrial emitters of CO2 to new and developing markets for their carbon, while ensuring project developers, like Infinium, have access to a diversified, consistent, and rateable CO2 supply.
Matt Vining, CEO of Navigator, said the agreement showcases how Navigator can help its partners optimise their carbon usage and minimise emissions.
Infinium eSAF and Infinium eDiesel can be used in planes, ships, and trucks and a replacement for petroleum jet and diesel fuels without modifications to engines or distribution infrastructure.
The company has numerous projects in various phases of development across the US, Europe, Japan, and Australia.
Robert Schuetzle, CEO at Infinium, notes that the demand for eFuels as a climate-friendly alternative to petroleum-derived products continues to grow from both the heavy transit and the chemicals sectors.
Exclusive: Honeywell's latest SAF technology takes flight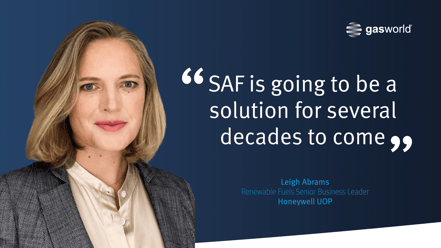 In September 2021, the US Department of Energy (DOE) set a target to supply sufficient sustainable aviation fuel (SAF) to meet 100% of aviation fuel demand by 2050. At the time, this seemed ambitious, but Honeywell UOP thinks is more than doable with the rollout of its latest technology and others alike.
The technology firm recently unveiled its eFining™ technology to produce low-carbon SAF. Honeywell's UOP eFining™ is a methanol to jet fuel (MTJ) processing technology that can convert eMethanol to eSAF reliably and at scale.
eSAFs combine green hydrogen (i.e., hydrogen produced in electrolysers from renewable energy and water) and carbon dioxide (CO2) to produce eMethanol, which can then be converted to a wide range of sustainable fuels.
Using green hydrogen and CO2 to produce eSAF has the potential to dramatically increase the volume of SAF required to enable the aviation industry to reach its decarbonisation goals in a timelier manner.
Continue reading here.