A three-month trial of one of the most advanced photometric gas analysers on the market today has proven successful at a nuclear power station as it seeks to monitor potentially harmful CO2 levels.
Servomex's SERVOTOUGH SpectraExact 2500 had been in situ at EDF Torness since June as the company looks to transition to the new model. The former model – known as the 2500E – and several predecessors have been monitoring air samples from four main points of source since the power station was established in the 1980s.
EDF Torness is home to two advanced gas-cooled reactors at its site on the east coast of Scotland, supplying power to more than 2.5 million homes across the UK. The coolant gas used during the process is CO2 – a necessary but potential hazardous gas, harmful to any employees on site.
To ensure that the 500 full-time EDF employees and their 180 full-time contractors are safe from harm while on-site, ambient air monitoring is reliant on the SpectraExact 2500. Should levels be recorded of 0.09% a built-in alarm is triggered, and the control room is alerted. Warnings would then be issued to staff to advise them to evacuate that location until it is fully investigated, and the area is determined safe by specialist personnel.
"There is a piece of granite at the front of our building that states, 'safety is our overriding priority'," said Graham Cash, Systems Engineer for EDF. "It is literally set in stone."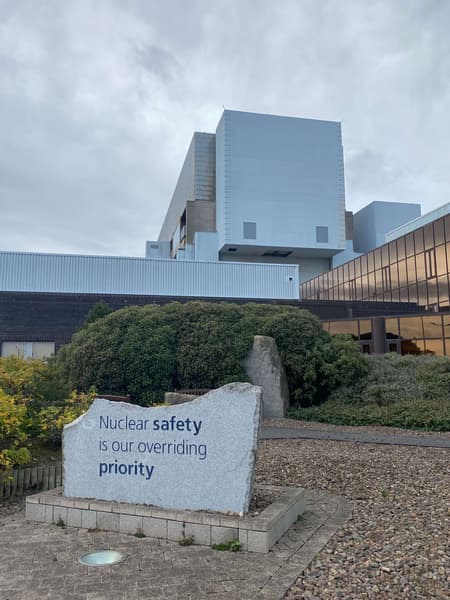 As CO2 is a heavy gas, the monitors are based at low-lying positions where the gas can gather and sit in pockets.
There are 178 tonnes of CO2 in each reactor – the necessary transfer medium of the heat. Encapsulated by a 6m thick concrete wall, the reactor houses fuel elements, sealed metal cylinders containing uranium. Neutrons are fired at the uranium atoms, causing them to split, releasing more neutrons and hot other atoms causing further splits. This chain reaction generates the heat required to heat the water which is passed through the reactor. CO2 is considered an ideal component for moderate temperature heat utilization as it can reduce the cycle temperature, providing optimum thermal efficiency, to prevent the water from boiling and evaporating.
The hot pressurized water is circulated from the reactor to a steam generator. The steam passes through a series of turbines which converts the steam's heat into mechanical energy. A generator converts the mechanical energy into electrical energy, using an electromagnetic field, and the electrical energy is forwarded to the grid to provide power to homes and businesses.
Once the steam has completed its job in the generator, it needs to be cooled and recycled. It is passed over pipes full of cold water pumped in from the sea – an Olympic swimming pool's worth every minute, around 720 million litres a day – and then condensed back into water, before being piped back to the steam generator where it can be reheated and once again turning back into steam to keep the electricity generation going.
The reactors are shutdown at regular intervals, in line with the commitments to the regulator, the Office for Nuclear Regulation, to ensure there are no leaks or cracks and to inspect the condition of the graphites that make up the reactor itself.
"The primary focus for us is to ensure there is no risk to personnel," Graham adds. "As well as being a harmful air to breathe it contains certain radioactive isotopes and the gas is being transferred all the way around the reactor core.
Matt Hollis, Undergraduate Applications and Support Engineer, said: "The SpectraExact 2500 is ideal because it has a very good response time which is critical and requires very little maintenance. The former model has performed very well and we're happy to help our customers at EDF Torness achieve the safety levels they need."
Graham added: "The new model is much more user-friendly, has an improved interface and it could easily go into full service tomorrow."
Generating power using nuclear energy depends on natural resources that are abundant at certain locations around the world. With low ongoing running costs, it is possible to produce the required electricity reliably, emitting low levels of carbon. The natural element required for nuclear energy is uranium. A single uranium pellet, approximately the size of a peanut, produces as much energy as 800kg of coal, making it much more resource friendly.
Servomex's new SpectraExact 2500 is designed to raise the bar for flexible photometric gas analysis
Building upon the proven measurement principles of Servomex's premium non-dispersive Infrared (NDIR) gas analysers, the latest version of the SERVOTOUGH SpectraExact 2500 is the most advanced photometric gas analyser the company has yet to produce.
The previous iterations of the SpectraExact 2500 are widely trusted and used globally throughout process industries, delivering high performance and flexible operation in a resilient and extremely reliable design.
Servomex has introduced a range of enhancements for the latest model, which is designed to be the leading solution for a wide range of industrial applications, including ethylene production, carbon capture and storage, ethylene dichloride manufacture, and direct reduction iron processes.
Using a rugged and reliable digital platform, the SpectraExact 2500 is intended as a next-level solution for single-component process monitoring, with features developed to ensure it is easier to use than ever before, including a larger screen and an intuitive interface with simple navigation.
Field mounting capabilities enable flexible use in the harshest process conditions, while the feature-rich design – including sample cell and electronics segregation – provides non-contact analysis and permits the analysis of corrosive or continually flammable sample streams.
The SpectraExact 2500 is certified for gas and dust zone hazardous areas, and there are two model variants to choose from, measuring either gases or liquids, each utilizing industry-leading Non-Dispersive Infrared (NDIR) sensing technology, to ensure specific customer application needs are met.
Digital communication enables the full functionality of the analyser to be controlled remotely and safely, with Modbus implemented through Modbus TCP (Ethernet) protocols.
Further options include a high-integrity cell, supplied with specialist perfluoroelastomer seals to ensure improved leak tightness for use in highly toxic gas measurements. A heated cell is a standard option available on safe area and hazardous area variants for improved measurement stability.
The footprint of the new SpectraExact 2500 is compatible with all previous versions of the 2500 series, ensuring rapid, cost-effective replacement for plant operators looking to upgrade their photometric gas analyser.
The 2500's photometric technologies
The Infrared sensing used in the SpectraExact 2500 is a flexible measurement technology based on the unique light-absorbing properties of most gases and liquids. This technology delivers a non-contact, real-time detection of the concentration of a selected gas or liquid in a mixture.
The SpectraExact 2500 focuses an Infrared light source through a sample cell which holds a continuously flowing sample of the analyte, and onto a detector after wavelength selection. The property of the analyte to absorb unique wavelengths can be used to detect its concentration in a mixture.
The SpectraExact 2500 utilizes Single Beam Dual Wavelength (SBDW) technique. A pair of optical filters mounted on a rotating disc pass through a beam of IR light alternately. One filter (the measure filter) is chosen to pass light only at a wavelength that the gas to be measured absorbs, while the other filter (the reference filter) passes a wavelength unaffected by the gas to be measured. The difference in absorbance is measured by the detector and provides a direct output of the gas concentration.
SBDW technique is ideal for real-time, non-contact measurement applications and compensates for common mode effects, such as contamination or source drift, providing highly reliable analysis and helping to extend maintenance intervals.
For applications where extremely accurate, low-level measurements are needed, or where background gases may interfere with the measurement, Gas Filter Correlation (GFC) technique provides an enhanced version of the photometric analysis used in Servomex's SpectraExact 2500 series.
GFC relies on two gas-filled cuvettes mounted on a rotating disk, each passing through a beam of light alternately. The measure cuvette is typically filled with nitrogen while the other, the reference cuvette, is filled with a sample of the gas to be measured. Light is passed through the gas to be measured, and the difference in absorbance is measured. This provides a direct output of the gas concentration.
Gas Filter Correlation offers a real-time measurement response which is largely unaffected by background gases. The technique is virtually immune to obscuration of the optics, which reduces measurement drift, helping to extend maintenance intervals and minimizing ongoing costs.
GFC sensing technology also provides a lower-cost alternative to more complex technologies when dealing with applications that require both high sensitivity and high selectivity analysis.
Example application: EDC production
Ethylene dichloride (EDC) is an important intermediate in the predominant manufacturing process for polyvinyl chloride (PVC).
The production of EDC requires accurate and reliable gas analysis at several points, with a variety of technologies – including photometric sensing methods – delivering vital measurements for process control and quality monitoring.
Gas analyser systems used in this application must contend with challenging process conditions, including condensation and corrosion.
Large amounts of hydrogen chloride, EDC, and residual water can increase the corrosion damage, so a resilient analyser that can make accurate process measurements is required.
Many of the key measurements required in the EDC process – including residual water levels in the EDC stream – can be delivered by the SpectraExact 2500. This highly flexible analyser can also be used to monitor ethylene, carbon dioxide, sodium hydroxide in aqueous solution, and hydrogen chloride in the EDC production process.
Designed for ease of use, the latest version of Servomex's iconic SpectraExact 2500 photometric analyser delivers flexible, next-level gas analysis capability for continually flammable sample streams in hazardous areas.
Its reliable, accurate and stable real-time online process analysis makes it ideal for a range of process, quality, and emissions gas analysis applications.
This includes key industrial processes such as ethylene production, carbon capture and storage, ethylene dichloride manufacture, and direct reduction iron processes.
This guest article was contributed by Rhys Jenkins, Product Manager – Process Spectroscopic Analysers at Servomex.