Ukraine has enough gas to go through the winter season with around 2-3 bcm in storage, according to Maksim Timchenko, CEO of DTEK.
Delivering an online international media briefing, he said based on its estimations, it has enough thermal generation capacity too.
"The major problem will be how to bring power to different regions, because of the concentration of power stations in the western part of Ukraine, and the connections have mostly been destroyed," said Timchenko. "We have limitations in capacity in bringing it from source of production to consumption."
He said average capacity for the last few years has been 8.2 bcm. "As of today, if we keep production we will exit winter season at the level of 8 to 9 bcm gas storage, which is perfectly fine, especially given around a 40% drop in consumption."
However it is running low on inventories of spare parts to fix power infrastructure damaged by Russian shelling, it said in a separate statement.
"We have already used up the stockpiles of equipment which we had in our depots after the first two waves of attacks since October 10," said Dmytro Sakharuk, Executive Director of DTEK.
DTEK was able to buy some equipment but needs to purchase "millions of dollars" worth of spare parts as procurement problems are mounting amid soaring prices.
Founded in 2005 in Donetsk as a mining and power generation company, DTEK is the largest coal producer in Ukraine.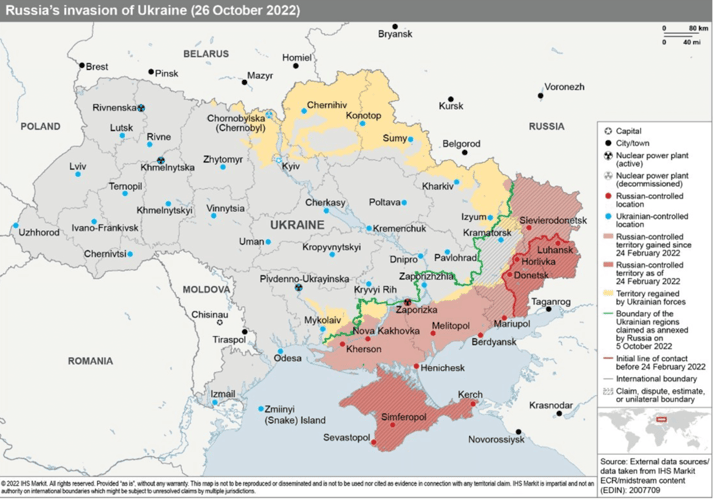 The conflict looks set to continue deep into 2023, with few politically palatable off-ramps available for Russian President Vladimir Putin, according to a recent report from SPG Global.
"Entering 2023, much depends on the severity of the European winter, on likely further sanctions, and on prospects for global measures being considered to cap the price of Russian oil," it states.
Dr. Lindsay Newman, Head of Geopolitical Thought Leadership at S&P Global Market Intelligence, said European energy security will remain a source of near-term risk, clouding the economic outlook.