Major ammonia player Yara International (Yara) and carbon dioxide (CO2) transport and storage specialist Northern Lights have signed a binding commercial agreement that will enable the first cross-border transportation and storage of CO2.
Announced yesterday (20th November), CO2 released during production of ammonia at Yara Sluiskill in the Netherlands will be liquefied and shipped by Northern Lights to be permanently stored beneath the Norwegian seabed.
The initiative is part of Yara's target to reduce the site's annual CO2 emissions by 800,000 tonnes per year, which is equal to 0.5% of the total annual emissions (based on 2022 figures) in the Netherlands.
Ammonia production is heavily reliant on fossil fuels and leads to 2.7 tonnes of CO2 emissions per tonne of ammonia, revealed the Ammonia Energy Association, accounting for around 1.8% of global CO2 emissions.
According to Yara Sluiskil, the site will expand its CO2 liquefaction capacity to 12m tonnes of CO2 over the next 15 years with an estimated CAPEX of approximately 200m.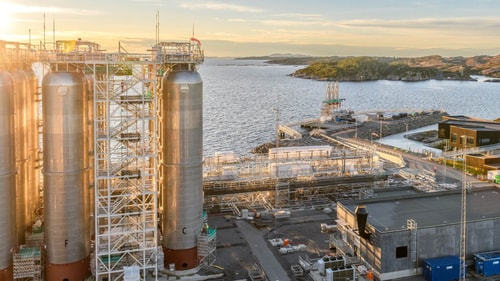 Commenting on the agreement, Svein Tore Holsether, CEO of Yara, said, "This is a milestone for decarbonising hard-to-abate industry in Europe and for Yara it's an important step towards decarbonising our ammonia production, product lines and the food value chain at large."
In addition to removing CO2 from its ammonia production process, Yara is also exploring large-scale blue ammonia projects with carbon capture and storage (CCS) in the US, aiming to decarbonise premium product operations in Europe.
The Northern Lights project is part of the Norwegian full-scale CCS project called 'Longship'. Expected to begin operations by 204, the project will have enough storage for the equivalent of 750,000 car emissions every year in the first phase.
"Norway has the potential to provide Europe with significant CO2 storage, which will help the EU to reach their climate targets," said Borre Jacobsen, Managing Director of Northern Lights. "It is a safe and efficient way to handle emissions and this agreement demonstrates that."
CCS and CCUS have been labelled as essential to achieving the goal of Net Zero emissions by the International Energy Agency (IEA). European industries are currently awaiting the upcoming EU CCUS strategy set to be released early next year.
To realise the full potential of CCS, Yara calls for the support by a dedicated regulatory environment for CO2 transport and storage infrastructure.
"To succeed with the green transition, we need strong partnerships and support from governments and the EU," stated Holsether. "CCS is an important part of the solution. Together we can significantly reduce greenhouse gas (GHG) emissions and take us further step closer to transform industry and reduce emissions."