This October gasworld celebrates its 20th anniversary, charting key moments, events and industry stakeholders over our last two decades.
It's been a progressive period of activity marked by multiple milestones and product launches, but it's also been a timeline of rapid advancement in technologies and various sectors of the industry.
This has been perfectly encapsulated at an evolving technology innovator like Anova.
The company has grown immeasurably since its inception in 1989 and here in the second of gasworld's then and now profiles of the company's driving change in the gases business, we look at the Anova journey across almost 35 years of business around the world.
Then…
Anova traces its roots back to DataOnline, founded in New Providence, New Jersey in 1989 by former BOC employees Robert Barnacle and Martin Adams and born out of their many years of experience in the industrial gas business.
Using incisive industry knowledge, the company was formed in response to a niche in the market, as both Barnacle and Adams recognised an opportunity for cryogenic tank monitoring – in order to optimise the supply chain and in turn, reduce road miles for trucking gases.
Perhaps unsurprisingly, the first DataOnline customer was BOC in North America, based in Murray Hill, New Jersey. And the DataOnline story, much like its customer base, has continued to blossom since then – in both product range and services and its presence all across the globe.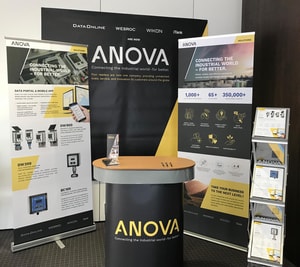 Now…
Today, that presence is under the Anova brand. In 2016, FFL Partners, a private equity company, recognised that there was a significant opportunity in industrial technology. It took clever action and created a plan to develop an Industrial Technology portfolio within its business.
Wanting the very best in the industry, it sought out six leading firms across the globe – DataOnline, Wikon, WESROC, ISA, Silicon Controls and SDI. After embarking upon these key acquisitions, Anova was effectively born.
The new look and name were first unveiled during a soft launch at gasworld's CO2 Summit in Austria, with gasworld understanding the name was derived from the term for the 'analysis of variance', a type of statistical test used in scientific and industrial measurement.
Symbolically, 'Anova' represents all that the company provides to its industrial IoT (Internet of Things) customers – data acquisition, analysis, intelligent decision-making and positive impact.
The company later completed its formal launch as Anova and, as they say, the rest is history.
What it means to be Anova in 2023, is to help digitise the supply chains of the manufacturers and distributors of industrial gases, chemicals, LPG, fuels, lubricants, and other products. Through innovation in remote telemetry technology and analytics, Anova has empowered new levels of operational insight, efficiency, and consumer experience. Its solutions help customers avoid run-outs, optimise labour, improve safety, and deliver more product with fewer miles – all of which drive increased productivity and profitability.
This is what Anova sees as its cornerstone – providing benefits at every level, from supply chain cost reduction to mobile asset tracking, more efficient and optimal truck routing, actionable data driven- insight, health and safety alerts, and new efficiencies that help protect our planet.
Leader in remote telemetry
Anova cloud-native solutions are used in over 80 countries, providing insight on over one million industrial assets. The company's 2,000+ clients extend from small, regional businesses to the world's largest industrial gases, chemicals, and LPG manufacturers and distributors.
Anova is the global leader in the remote telemetry space, reflecting its long-earned trust and reliability, the breadth of asset type monitoring solutions, and its universal communication network and satellite communications support. Its team possesses real, industry expertise and has delivered industry-changing innovations to the industrial gases industry for over 30 years.
Advanced monitoring capability
Anova's Remote Telemetry Units (RTUs) are widely used on stationary tanks and mobile assets of all sizes, carbon dioxide (CO2) compressors, gas mixing systems, vaporizers, and other systems – and are equipped to support alerts, both standard and customized, and additional RTU inputs and outputs.
It also offers advanced remote telemetry support for other supply chain assets, including hydrogen and LNG fuelling stations, cryogenic freezers and other PLC-managed assets (PLCs), pipelines, heat treating systems, PSA (pressure swing adsorption) and membrane systems.
Beautiful visualisations, instant insight, value unlocked
The powerful Anova Transcend® software captures critical data and expands the scope and visibility into an operation by connecting more assets into your monitoring dashboards. Beyond tank level reports and forecasting, Anova also supports pressure, flow rate, temperature, and other measures.
Anova is also helping its customers to truly unlock value by enabling them to make informed, proactive decisions with an extensive analytic view into the performance and efficiency of multiple industrial assets. The Anova Asset Viewer provides information, anytime, anywhere – maximising operations by actioning new insight to reduce maintenance costs and downtime, while improving customer service and supply chain efficiency.
Advanced safety insights
Anova's flammable applications solutions mitigate the risk of dangerous, high pressure events and costly loss of product.
With near real-time insight into fill efficiencies, tank performance, tracking, and fleet utilisation for mobile and stationary assets, users are able to gain critical visibility to optimise their flammables distribution operation.
Hardware as a Service (HaaS)
Finally, demonstrating both the growth in Anova's capabilities through the decades and the advances in digital technology and purchasing strategies as a whole, the company offers its customers the opportunity to bundle its remote monitoring hardware, software, communications, and more into one easy, monthly subscription, with no upfront capital costs. It's the modern subscriber experience we're all used to as individual consumers, but for business and industrial asset optimization purposes.
Users are able to secure everything they need, as well as contract-lifetime replacements at no additional cost, and let Anova's HaaS pay for itself in operational savings, more monitoring, and rapid operational returns.
It's all part of the service that ensures Anova is the trusted asset management partner not just spanning 20 years or more than 30 years, but for many years ahead too.