The Asia-Pacific region has long been a market of allure for the global gases business, not least for its wealth of business opportunity. This is reflected in our latest regional markets analysis this month, where we get behind the veil of the North and South Pacific Rim gas industries in 2022.
At the turn of the century, for example, whilst Japan may have already been home to one of the world's foremost and mature gases markets, all eyes were on the expected growth in the Chinese gases industry. By the 2010's that market was firmly in the ascendency, while Japan's industrial gases sector had arguably long since plateaued; and against this backdrop, the developing economies of Southeast Asia have been quietly carving out promising industrial gas markets of their own, with all eyes on their expected future potential.
Some may say, then, in the context of a mature Japan market and a very much 'adolescent' China market, that the region has already realised much of its potential. Yet a great wave of opportunity is yet to be tapped into, both for those within the region and those outside looking in, ready to enable growth. In the shape of the North and Pacific Rim industrial gas markets, for example, we have a region that's home to a number of existing and future electronics and specialty gas hubs.
There are also rapidly developing manufacturing and food and beverage sectors, all of which require continued industrial gas capacity build-out and the required equipment and technologies to match.
These are just a few examples. Parallel to this growth – and indeed a driver of it in many respects – is a mandate not only for clean energies, but decarbonisation across the industrial ecosystem. This in itself presents not just a window of opportunity, but a sense of responsibility for the gases industry.
So how does the burgeoning Asia-Pacific region truly deliver on the promise of its growth potential? Where does the promise meet the challenges of reality? And how can the industry come together at this intersection of opportunity for the benefit of all?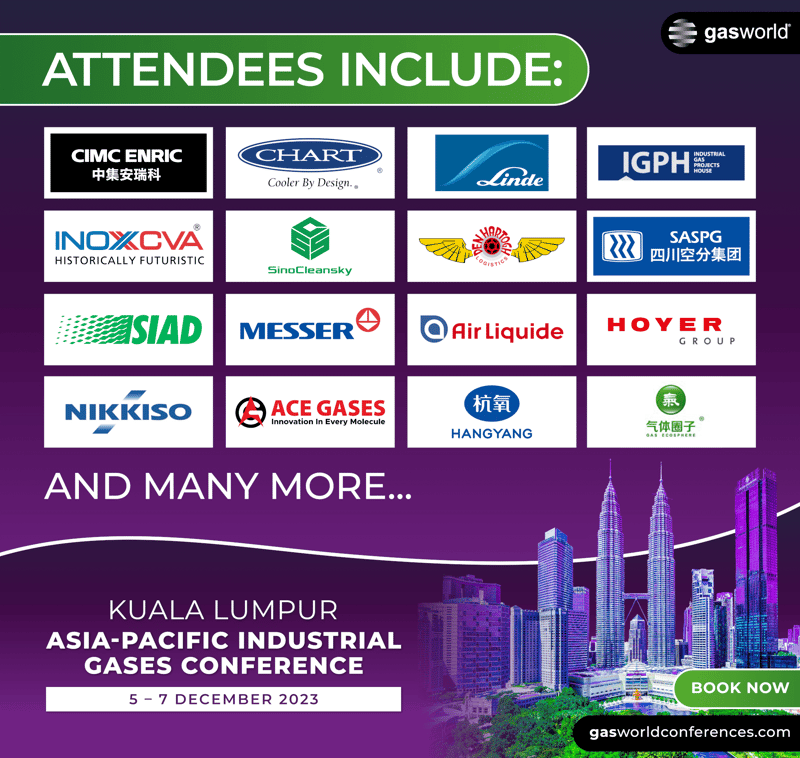 An event for discussion and debate
There are questions to be answered for all across Asia-Pacific, and pieces of the puzzle to pull together, not least in the region's foremost industrial gas market: China.
The People's Republic has already delivered on much of its growth prospects, but is still only scratching the surface. At the same time, the country has this year tempered its economic growth expectations and many believe a more cautious outlook is on the horizon in the years ahead. So what comes next? Will the great industrial gas build-out in China continue, or can we expect to see projects slow? Can China deliver against its expectations in electrolyser capacities and green hydrogen, as hoped?
Attempting to secure the answers to all of these questions, as well as so many more besides and providing the opportunity to network under one roof with fellow stakeholders in the region, will be gasworld's Asia-Pacific Industrial Gases Conference 2023 in Kuala Lumpur, Malaysia this December.
When: 5th – 7th December 2023

Where: The Renaissance Hotel & Convention Centre, Kuala Lumpur, Malaysia

What: A 2.5 day event comprised of 6 panel sessions, two keynotes and more than 15 other esteemed speakers.
The conference will include sessions devoted to the economic landscape and regional industrial gas markets; delivering and investing in decarbonisation; technology and operational advances in industrial gases; electronics and specialty/rare gases in 2023/24; healthcare and homecare in the Asia-Pacific; and the hydrogen challenge in the region in the years ahead.
Confirmed speakers include:
• Stefan Messer, Messer Group
• John Panikar, Linde plc
• Karina Kocha, gasworld Business Intelligence
• Yufeng Wan, Templewater
• Dr. David Hart, ERM/E4tech
• Tian Qui, Hangzhou Oxygen Plant Company
• Andy Tuan, Linx Consulting
• Phil Kornbluth, Kornbluth Helium Consulting
• Rachmat Harsono, PT Samator Indo Gas Tbk
• Stefania Mariani, SOL Group & Cryolab srl
• Karen Eryou, Access to Medicine Foundation.
Learn more about China's clean energy and industrial gas build-out. Tap into the talking points in electronics in Southeast Asia and build your core in specialty gases. Acquire the knowledge to further your own operational efficiencies. And make the connections that matter to deliver against your own promise of growth in the region.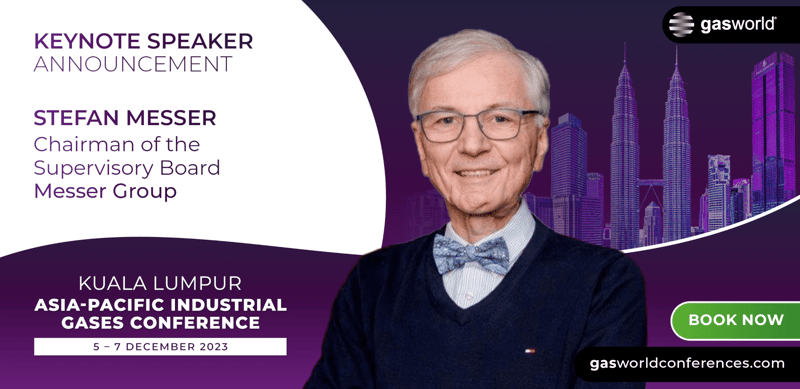 Additional event and networking
Further still, in addition to the gasworld conference across 2.5 days, at the same venue the following day there will be a separate H2 View APAC Summit focusing solely on the hydrogen challenges and opportunities in the region.
This co-location of events – a first for gasworld conferences – presents additional value for anyone attending and planning their business travel to the region, and the opportunity to tap into two different audiences at the very same venue, in the same week.
This is a geography with high expectations for its green hydrogen potential and its subsequent role on the global decarbonisation stage, particularly for the powerhouse People's Republic of China. At the same time, however, the Asia-Pacific region is home to a number of emerging economies and developing societies, and it would be unthinkable to switch to 'brand new' fuels and infrastructure overnight. There exists a balancing act to be struck. Accessibility, availability and affordability will all be key factors for hydrogen's anticipated growth in the APAC region. The emphasis will be on the 'transition' in energy transition, but many will also ask, how long can we afford to wait?
That's why H2 View has worked with gasworld to bring a dynamic 1.5-day event to the same Kuala Lumpur venue, exploring how the region fuses its undoubtedly huge hydrogen potential with both the practical needs of its economies and the ticking clock of sustainability.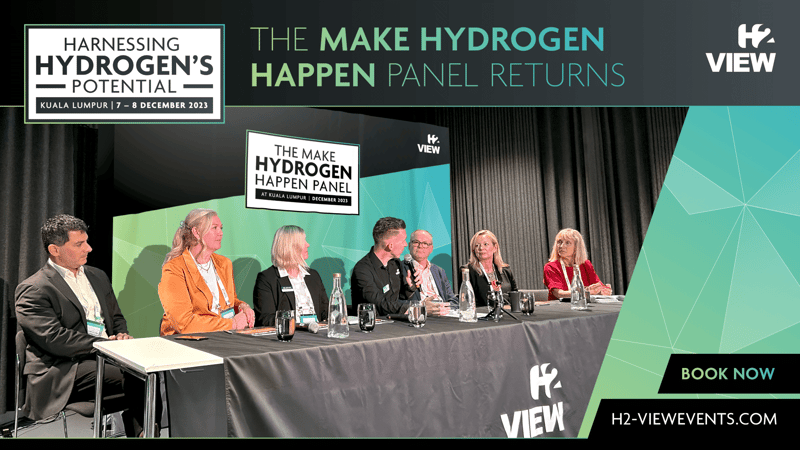 Expect thought leadership on how and where to invest, insights and case studies from the stakeholders making it happen, and all the key networking and connections to empower your own business prospects in this bustling region.
Confirmed speakers include:
• Mats de Ronde, DNV
• Sebastian-Justus Schmidt, Enapter
• Joseph Lenox, Ceres Power
• Amrit Singh Deo, FTI Consulting
• Marcoen Stoop, Nel Hydrogen
• Seong Oh, Chart Industries
• Brendan Norman, H2X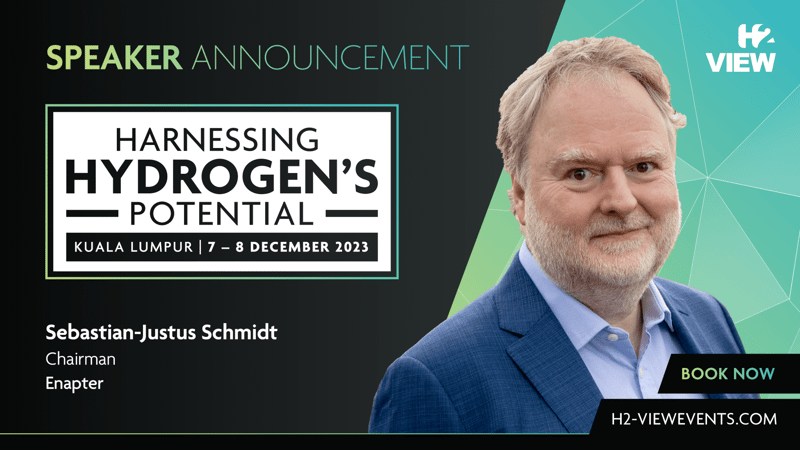 There's still time to secure your place at either the gasworld Asia-Pacific Industrial Gases Conference 2023, sponsored by CIMC Enric, or the H2 View APAC Hydrogen Summit 2023, or to take advantage of a combined entry to both events.
For more information, visit:
Or reach out to the team today at: