Linde Engineering will build a hydrogen filling station for heavy-duty vehicles and terminal equipment after being commissioned by Hamburger Hafen und Logistik AG (HHLA).
The facility marks the next milestone for its hydrogen activities in the Clean Port & Logistics (CPL) cluster and will be part of a test centre for hydrogen-powered port logistics at the Container Terminal Tollerort (CTT) in the Port of Hamburg, Germany.
The project will examine how hydrogen can be used to power harbour technology and port logistics reliably, accelerated by HHLA's focus on working with companies worldwide on means of bringing hydrogen-powered heavy goods vehicles and terminal equipment to market quickly.
"Our commissioning of Linde Engineering to build the hydrogen filling station is the next milestone for our hydrogen activities in the Clean Port & Logistics cluster," said Dr George Bottner, Head of the HHLA Hydrogen Network.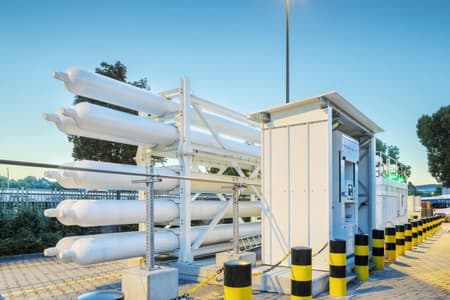 "The construction of the filling station creates the infrastructure needed to speed up the transition to emissions-free heavy goods logistics and port operations, and to drive forward the decarbonisation of logistics."
According to HHLA, the concepts developed for operation, safety, repair, maintenance, refuelling and supply will undergo practical tests and be optimised.
The organisation stated that the heart of the CPL innovation cluster is a test centre at HHLA Container Terminal Tollerort in Hamburg, where hydrogen-powered equipment can be tested on actual port handling operations and heavy goods transport.
Sponsored by the Germany Ministry of Transport and Digital Infrastructure as part of a national innovation scheme, the cluster was established in November 2022.
Speaking at its launch, Angela Titzrath, Chair of the HHLA Executive Board, said, "I am thrilled that partners from various industries, colleges, cities and ports are working together in the CPL innovation cluster."
"We all have the chance to hasten the transition to emissions-free heavy goods logistics and port operations by combining our skills across industries, nations and continents."
A study by the Organisation for Economic Co-operation and Development (OECD) revealed that the Hamburg Port Authority (HPA) was responsible for emitting around 7,000 tonnes of carbon dioxide (CO2) in 2019, more than half of which come from the harbour vessel fleet and around one-third generated by the natural gas used for energy consumption in port buildings.
Considered one of Europe's most suitable locations for green hydrogen development, Hamburg aims for its gas grid, Gasnetz, to become climate neutral by 2040 by creating a secure supply infrastructure of hydrogen.
Its envisaged Hamburg Hydrogen Industry Network will adapt 60km of the local gas grid to hydrogen by 2025 to reduce Hamburg's CO2 emissions by over one million tonnes annually by 2030.