Vacuum technology specialist Pfeiffer Vacuum (Pfeiffer) has introduced the first rotary vane pump for mass spectrometry with a hermetically sealed pump housing.
The SmartVane is used as a backing pump across a range of applications including for mass spectrometers (ICP-MS, LC/MS), for applications in environmental and food analytics, and pharmaceutical and clinical analytics.
Due to an integrated motor, the pump requires no conventional seal and is designed to ensure that no oil leaks occur, eliminating the risk of contamination.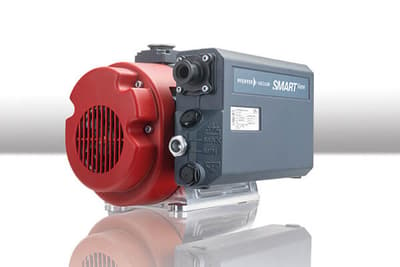 Vane pumps are commonly used as high-pressure hydraulic pumps and in automobiles, including power-steering, air condition, and supercharging.
When it comes to mid-range pressures, pumps are used in carbonators for fountain soft-drink dispensers and coffee machines.
Commenting on the SmartVane, Marcel Merkardt, Product Manager at Pfeiffer, said, "Here, we combined the advantages of the tried-and-tested rotary vane pump principles with a revolutionary sealed design."
"In practice, this means that you benefit from the familiar high performance of a rotary vane pump, but without any disadvantageous oil leaks."
According to Pfeiffer, the new pump is well-optimised for laboratory use due to its typical operating pressure of less than 10 hPa, making it quieter than alternatives.
"This makes it possible to carry out even challenging tasks in a pleasant working environment," stated the company.
By harnessing 'intelligent' communication options, the device can be used as a plug-and-play solution in combination with existing devices.
Having emphasised sustainability as one of its 'key business drivers' for the Group, Pfeiffer has integrated the device with an energy efficient IPM motor equipped with a stand-by function enabling lower power consumption.